LPM Legal IT Landscapes 2018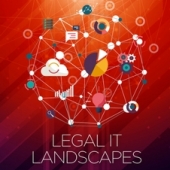 For the first time, LPM is holding an event to discuss and analyse the results of its landmark annual research into SME legal technology – LPM Legal IT Landscapes 2018 – and it's free to attend to everyone in legal business management.
Generously hosted by our friends at GVA, and sponsored by Baskerville Drummond, Tikit, NetDocuments, Accesspoint Technologies and Pulsant, this is an opportunity to hear LPM's analysis of the results and take a dive with speakers into areas such as innovation, smart working, business efficiency and automation, data and client connections.
Sessions include
- Expert IT leaders at SME law firms discuss which firms are the most innovative
- To what extent does AI and automation technologies impact the SME legal market?
- Is now the time to begin looking at AI, or is it best to wait until the winning technologies emerge over the next few years? Can automation be cherry picked if you're on a tight budget?
- Which technologies are providing the most return on investment and which kinds of business are most threatening to your firm's future?
Come learn the answers to these and many other questions – and discuss with your peers what they mean to tomorrow's SME law firms.
Who should attend
Leaders and decision makers from SME law firms such as:
Practice directors and managers
Operations managers
Managing partners and technology partners
IT directors and managers
Finance directors
​Office management
Further information
LPM will be hosting a series of innovation events throughout 2018/2019. This event will be hosted at GVA and will welcome an exclusive group leaders in legal management from SME law firms. Featuring speakers who are leaders in technology and business innovation, the intimate nature of these events will enable delegates to learn, share and debate the challenges at the heart of their roles.
Donation made to Shelter
Every year we link responses to our LPM and Briefing Legal IT landscapes research – investigating attitudes to technology and business efficiency in legal services – to donations to Shelter. This year we raised a fantastic £2,800 for the well-deserving charity. We'd like to thank sponsors: Tikit, Accesspoint Technologies, Nasstar, iManage and Phoenix Business Solutions for their generous donations.
This event is supported by: