LTC4 - what is it and how can joining benefit me and my firm?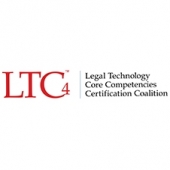 LTC4 is a completely independent non-profit membership organization working for a future where all legal professionals use technology efficiently and can prove it. Learn about how the organization started, its core competency learning plans developed and reviewed by legal for legal, and how it can help your firm improve tech skills and gain competitive advantage.
In this webinar, a member of the LTC4 Board will outline the organization's vision and other key members will explain how your firm's attorneys and staff can gain LTC4 certifications for the improved competence and productivity today's clients demand.