Addleshaw Goddard launches its 2018 Elevate programme for a new round of FinTechs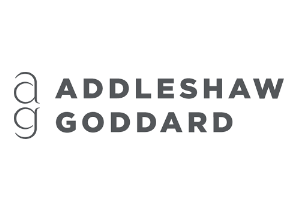 'AG Elevate' 2018 is launched today, 4 October 2017, by the firm's head of FinTech Group, Fiona Ghosh, at PayExpo Europe, the UK's largest Payments and FinTech conference, where she chaired the event's plenary, key note session on the challenges of FinTech maturity.
Like the original offering, 'AG Elevate' 2018 is a fast track, 12-month initiative that focuses on supporting ambitious FinTechs by providing free legal advice and mentoring under the banner of two programmes - one targeting 'early-stage' start-ups with no more than £1 million of investment, and one directed at start-ups with at least 'Series A' funding of more than £1 million. Both packages offer mentoring services and free legal advice, together with access to AG's training sessions and networking events.
---
Discover more about Addleshaw Goddard on their employer profile page. Here you'll find:
Addleshaw Goddard news
Business service jobs
Recruitment contacts
Locations
Go to www.lsn.co.uk/AddleshawGoddard
---
'AG Elevate' 2018 will look to build upon and secure FinTechs from the UK, with a particular focus on Scotland, as well as internationally, concentrating in particular on South East Asia and the Middle East.
The programme will again be resourced by AG's most experienced FinTech lawyers, who, in 2016 won an award for 'Most Innovative Law Firm' for their work with Microsoft, at the Financial Times (FT) Innovative Lawyers Awards 2016. The firm has, this year, been shortlisted for a further two awards at the FT Innovative Lawyers 2017.
The team are currently working with 7 FinTechs from the first cohort of 'AG Elevate', including Delio, Pace Invoice, Penta, Moneyfellows and Mespo and those programmes continue to thrive. The success of the programme and the benefit it brings to the participants is well voiced by the FinTechs themselves – read the case study from David Newman from Delio here, a complete white label platform solution for private asset management.
Fiona Ghosh, commented: "Following the success of our 2017 programme, it made absolute commercial sense for us to take 'AG Elevate' to the next level. We have learnt much in the process of the original offering that we will build upon for the next round. The FinTech market has changed significantly over the last 12 months - people are realising that you can be a well-established global business and be FinTech. We want to continue the work we are doing and to keep providing a service that allows our clients to prosper and grow as well as providing a network to learn from each other and more established players. We look forward to welcoming the next round of applicants."