BigHand is a finalist for two awards at the UK IT Industry Awards 2016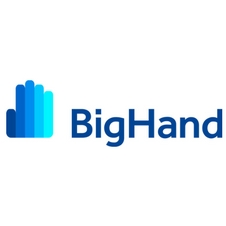 BigHand, a leading productivity software provider to the legal market have been nominated as finalists for two awards at The UK IT Industry Awards 2016.
The UK IT Industry Awards looks to celebrate IT excellence and is the benchmark for outstanding performance throughout the UK technology industry. The awards focus on the contribution of organisations that have excelled in the use, development and deployment of IT over the last 12 months. BigHand are finalists in:
The 'UK Innovation & Entrepreneurship' category which is awarded for an innovative new product or service that has delivered measurable bene t for customers. BigHand are finalists in this category as a result of the BigHand Now project they completed with Anthony Gold, a forward-thinking and progressive law rm based in London Bridge. The implementation
of BigHand Now an advanced task delegation tool, enabled them to have complete visibility over their tasks across multiple teams.

The 'IT Apprentice of the Year' is awarded to an individual who is participating in an IT apprenticeship programme that involves part-time formal study to gain IT qualifications, together with paid work experience to enhance skill and understanding. The award seeks to recognise exceptional performance and customer service, and this year BigHand's IT Apprentice, Arif Ahmed is nominated for the award. Arif joined the company in August 2015 and quickly excelled in his role delivering excellent client service to all of BigHand's clients.
Ben Mills, Managing Director commented "Being selected as a finalist in both awards is a significant achievement for us. It recognises both our innovation in technology but also our commitment to our clients to supply them with the best customer service possible. Seeing the results that Anthony Gold have experienced shows how far we have come since we launched the product this time last year. BigHand Now is an important offering within our 'Delegate' product suite and we are delighted to see it recognised as such an innovative product."
The awards ceremony will take place on Wednesday 16th November at Battersea Parks Events Arena, more information about the event and other finalists can be found at www.ukitindustryawards.co.uk