BigHand 'Made Big Happen'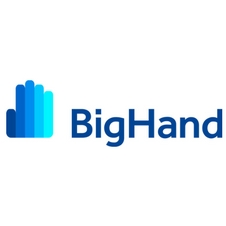 On 1 October, BigHand, a leading software technology company, celebrated the biggest day in the organisation's history. The BigHand 2015 Annual Client User Conference was held in central London, and was attended by over 320 people who joined the BigHand team in celebrating the official launch of BigHand 5.
The event was the culmination of an 18 month internal BigHand programme, developing BigHand 5 - the latest and most advanced version of BigHand's software. The software brings together technology enhancements including exciting new features, an intuitive new user interface and central hub for a number of new products. These new products launched include:
BigHand Now - a revolutionary task delegation solution, BigHand Capacity Manager - a reporting and forecasting tool and;
BigHand SmartNote - a document automation tool. BigHand also formally launched the UK version of its successful USA.
BigHand Office product range. Jamie Gash, Product Specialist for BigHand Office in the UK, stated 'It is great to launch our Office productivity products in the UK market. They have been hugely popular among law firms in the US and we have had huge interest over the past year from our clients in the UK, so I am delighted they will now be abl e to benefit from them.'
Ben Mills, Managing Director for UK Legal, who led the BigHand 5 programme, commented 'Over the last 18 months the teams have been working flat out with our clients to understand their current business challenges and design solutions that will make a real differences. At BigHand we pride ourselves on actively speaking with and listening to our clients of all sizes, to build products that provide real value, are easy to use and are easily supported. We are extremely grateful for all of our clients feedback, and look forward to deploying our new product based on their input. It is a really exciting time for both BigHand and our clients."
The event was also used to launch the new BigHand brand. Briana McCrory, Marketing Director at BigHand comments: "The BigHand brand refresh has been an exciting project which has taken almost 2 years from start to finish. It has taken extensive global research and a lot of dedication and hard work from everyone involved but we're now able to say that our brand reflects our people, our aims and the work we do with our clients. We are thrilled with the results – and the positive reception it received from our clients when it was unveiled at the conference."
Attendees at this year's BigHand User Conference included clients and potential clients of all sizes, including some of the largest law firms in world, including Dentons, DLA Piper, and K & L Gates, who travelled in from North America to attend. During the day delegates attended a series of informative break-out sessions and were given demonstrations of the new products as well as being given a glimpse into the future development roadmap.
Pete Lomas, founder of Raspberry Pi, featured as the event's main keynote speaker, talking about his experience designing the revolutionary credit-card sized computer. Additionally, two of BigHand clients, Martyn Wells, IT Director at Wright Hassall and John O'Connor, IT Manager at Anthony Gold, presented their experiences using BigHand's latest technology and the results their organisations have been able to achieve. Following the daytime conference, the event turned into lively evening party where guests continued to network with canapés, cocktails and a range of live entertainment.
Jon Ardron, Chief Executive Officer at BigHand comments: "To say this was a momentous day for BigHand is an understatement. The Annual User Conference is something everyone at BigHand always really looks forward to but this year was even more important than ever before, On Thursday, we didn't just launch a new product, we launched a new BigHand, with multiple new products built based on client feedback. It was a tremendously proud day for everyone involved and great to be able to share it with so many clients and partners. The feedback has been overwhelming and I believe the team really did 'Make Big Happen'."
BigHand will now be doing a series of lunch briefings across six cities in the UK and Ireland to demonstrate the products launched at the conference to those that couldn't attend. For further information please contact BigHand at enquiries@bighand.com