iManage accelerates cloud momentum with over 150% year-over-year increase in new customers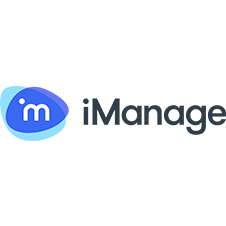 iManage announced today that its private cloud service has grown above expectations over the past 12 months, with the number of customers taking advantage of work product management in the cloud increasing by more than 150 percent year-over-year. Clients continue to select iManage's hybrid cloud service over SaaS alternatives for the reliability, security and flexibility to manage information both on premise and in the cloud, and because only iManage Hybrid Cloud provides full functionality in high-bandwidth, low-bandwidth and no-bandwidth environments.
As the market leader in work product management software, iManage empowers professional services firms to easily and efficiently manage the complete work product lifecycle by organizing all documents, emails and other communication streams in integrated project workspaces, accessible and securely shareable from any device, anywhere, and at any time. With roots in the document management space, iManage has evolved its product line over the 18 years it has been in business to reflect the needs and expectations of today's new professionals, who are highly mobile, used to working with multiple types of communications and connected to their clients 24x7x365.
Professionals in nearly 3,000 organizations around the world — including more than 1,800 law firms, 400 corporate legal departments, 250 accounting and financial services firms, and 120 government agencies — rely on iManage every day to help them serve their clients more effectively. A growing number of new and existing iManage clients have opted to move their work product management installations to the cloud including: Hinshaw & Culbertson, Hall & Evans, Higgs Fletcher & Mack, Energizer and many others.
Hinshaw and Culbertson is moving over 1000 professionals from on premise implementation to the iManage Cloud. "We, like many firms, are re-imagining our infrastructure in light of the evolution of technology over the past several years," said Jim Devereaux, CIO of Hinshaw and Culbertson. "We are moving to the iManage cloud to eliminate the cost of expensive hardware upgrades, consolidate data centers, and improve disaster recovery. We expect this move to allow us to update our applications more frequently and allow our staff to focus on higher-level value activities working with attorneys instead of updating infrastructure. It's an added plus that these improvements will come with no impact on our user base, who will continue using this solid solution as they have been for years, but in a modern, robust hybrid cloud."
"This year, we put a tremendous amount of focus on maturing of our cloud offering," said Neil Araujo, CEO and co-founder of iManage. "The increase in both the size and number of iManage users opting to go with our hybrid cloud service is a testament to the market's demand for choice. A hybrid architecture allows firms to take advantage of the flexibility and anytime/anywhere access enabled by the cloud, while also allowing for full management of select critical information on premise. We see this as a key differentiator for our professional service clients — they can tap into the cloud when it's appropriate and makes the most sense for their firm, without being forced to move 100 percent of their client content to the cloud to get these advantages."