iManage sees wave of momentum among legal departments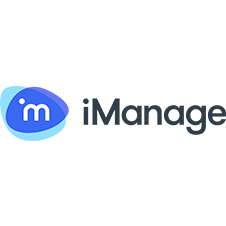 iManage, the company dedicated to transforming how professionals work, today announced that legal departments, already the company's fastest growing market, grew 25 percent faster in 2017 than just the previous 12 months.
Over the past several years, iManage has been enhancing its products to meet the changing and evolving needs of modern legal departments. iManage's flagship document and email management application, iManage Work 10, offers a powerful modern user experience that empowers professionals to easily work from any device — desktops, phones and tablets — any time. As a result, iManage Work 10 allows legal department professionals to be more productive and responsive to business needs.
iManage Work 10 leverages AI, machine learning and big data analytics to enhance legal department productivity by eliminating traditional friction points in common tasks. Work 10 includes productivity enhancing features like smart work lists that provide one-click access to all recent clients, matters or engagements, emails and documents, saving time and allowing legal department professionals to stay on top of changes. Timelines and dashboards cut through clutter enabling professionals to make better decisions, work smarter and provide greater insight into where they are on any given request or matter.
"In the recent 10th annual Law Department Operations survey, 54% of legal departments plan to update, evaluate or implement document management technology and companies such as iManage are poised to take advantage of this trend," said Brad Blickstein, Principal, Blickstein Group. "iManage Work 10 combines a powerful, easy-to-use modern interface with advanced security capabilities that enables legal department professionals to work from anywhere, anytime and adhere to the strictest security requirements. iManage's recent acquisition of RAVN extends the platform by bringing practical AI applications, such as contract analysis and knowledge management, to legal departments to identify opportunities and risks, reduce costs and improve the quality of work.
"Corporations recognize the value and need to better manage their legal work and content," said Dan Carmel, Chief Marketing Officer, iManage. "We have listened to the market and enhanced our products to meet the changing needs of today's corporate counsel. As a result, legal departments, at a faster and faster pace, are choosing iManage to meet their needs and those of the businesses they serve."