Thomson Reuters Elite introduces MatterSphere V6.1 at the VANTAGE 2014 EMEA regional conference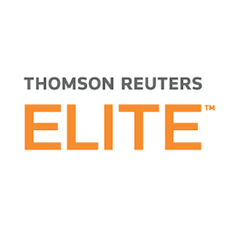 New version of MatterSphere equips clients with intuitive tools for document creation, processing, and collaboration
Thomson Reuters Elite, a leading global provider of enterprise business management solutions (EBMS) to professional services firms, has released MatterSphere V6.1, the latest version of the matter management component of Elite's Client & Matter Management offerings. Introduced at the VANTAGE 2014 EMEA Regional Conference, MatterSphere V6.1 helps clients boost their efficiency by automating and accelerating processes critical to their daily activities. Client & Matter Management is an integral segment of Elite's EBMS, a comprehensive suite designed to help clients manage every aspect of their businesses, including business development, risk management, client and matter management, and financial management.
"We are excited to debut the enhanced document management functionality of MatterSphere V6.1 at our largest event of the year for Elite customers in the U.K.," said Elisabet Hardy, vice president of Product Management at Thomson Reuters Elite. "MatterSphere is reputable for simplifying matters from end to end, and this new version benefits clients with even more flexibility and by easing tasks associated with document creation and collaboration, while also improving their bottom lines."
Several new features in MatterSphere V6.1 are designed to streamline document processing cycles, including the enhanced Post Room module, which allows clients to import scanned documents in a variety of formats including PDF, TIF, JPG, JPEG, and GIF. Searching for records in MatterSphere V6.1 is easier than ever before, with new phonetic "fuzzy" searching available. Clients can easily retrieve and share search lists, report the parameters, and store the ones they use regularly to save time and improve collaboration.
All-new archiving and deletion functionality in MatterSphere V6.1 allows you to set rules for selecting old documents by matter type and branch and for reviewing and editing them in batches. You can then archive the older documents to backup storage in your database—or even delete the document altogether. New document management controls also enable administrators to control the number of saved revision levels in document versioning, to save email attachments to multiple MatterSphere wallets, and to auto-save bundles. Closed matters can be locked down, so that documents can no longer be edited. And if one of your case handlers is away for a period of time, you can transfer their case load to another user with a single click.
For additional information about MatterSphere, visit Thomson Reuters Elite's Client & Matter Management page.