Thomson Reuters Elite launches multiple enhancements across the 3E Enterprise business management solution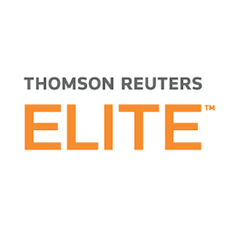 Launch of 3E 2.9 and improvements to several 3E products deliver new unified experiences, insights, and solutions.
Thomson Reuters Elite, part of the Legal Professionals division of Thomson Reuters, today announced the launch of a refreshed user interface as well as many other enhancements to several products in the 3E® Enterprise Business Management Solution.
The new user experience delivers to users a new application interface that unifies the experience across 3E, 3E Workspace, and 3E Paperless Proforma™. Leveraging the latest technologies of Material Design, HTML5, and Angular, users will benefit from a more modern, rich, and responsive experience. Because the user interface logic is separated from the application logic, 3E users can gain access to the new interface without a version upgrade. In addition, the user interfaces for Workspace and Paperless Proforma have been updated to align with 3E, creating a unified look and feel across the portfolio of products.
Parallel to the refreshed user interface is the launch of 3E 2.9, which improves the 3E integration with eBillingHub® and adds other billing enhancements. The updates leverage a series of new eBillingHub APIs that pull the relevant eBillingHub data into 3E, allowing billers to see and update e-bill status and view eBillingHub clients and vendors without leaving 3E. Other updates in 3E 2.9 include a new Elasticsearch® search engine in 3E Conflicts, a new dedicated partner integration for more comprehensive 1099 generation capabilities, a Working Timekeeper Rates report, cap/deductible billing, and more.
The user interface refresh and 3E 2.9 launch are accompanied by updates to 3E in the Cloud which offer more flexibility and options for clients using iManage Cloud v10, as well as the cloud enablement of 3E Image Connect. Additional enhancements include 3E Data Insights new reconciliation process; expanded capabilities for faster time entry in 3E Workspace; and improved billing in 3E Paperless Proforma.