Workshare announces new comparison capability embedded in NetDocuments SaaS DMS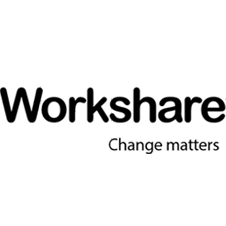 Workshare, the high stakes document company, announces a new collaboration with long-term partner, NetDocuments, with plans to roll out embedded document comparison into the NetDocuments platform.
Part of its Compare Everywhere solution, Workshare will embed with NetDocuments to deliver lightning-fast and accurate file comparison embedded directly within the NetDocuments experience.
As firms switch from on-premise document management to the cloud with NetDocuments, they need to be able to take essential tools – like comparison – to their powerful cloud-based service. Cloud-based comparison completes the picture for NetDocuments customers seeking superior document management, business continuity, security, mobility and collaboration.
"NetDocuments manages billions of files for thousands of customers. Customers rely on NetDocuments to provide secure access to the matter file from anywhere, anytime. Our partnership with Workshare is an example how our rich APIs can be leveraged to create a new, cloud-only experience. Legal team productivity will improve while Legal IT desktop is simplified, " says Peter Buck, VP of Product Strategy at NetDocuments.
Elements of the Compare Everywhere solution for NetDocuments include:
The speed and accuracy of DeltaView file comparison on any device
Category view to sort changes by materiality or group changes by type to focus on what matters most, making reviews much faster.
Same great features as desktop comparison, but without the need to deploy to the desktop.
Installed on-premise or hosted, fast, accurate comparison is possible everywhere.
Nick Thomson, CRO at Workshare, commented: "Compare Everywhere embedded into NetDocuments is great news for our growing, mutual customer base, who can perform DeltaView-quality comparisons from anywhere and any device. Now, there's no need to waste time opening a separate application. Compare Everywhere is embedded inside NetDocuments so documents don't need to leave your environment to go to a separate cloud to be compared."
Thomson added: "We are continually expanding into the comparison market and we know those working in sectors like the legal industry need a host of applications to get their jobs done. Because it's embedded with NetDocuments, users will be able to access Workshare Compare within the applications they use every day to streamline the collaboration process."
Compare Everywhere will be available as an add-on to NetDocuments.