Briefing: Innovation and technology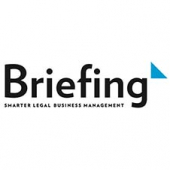 Time travel
From customer relationship management on mobiles to timely project alerts earlier in a process, the IT director of Bird & Bird is investing in a multitude of tools to take technology up a notch.
What's in this month's issue?
Interview: Our main interviewee this issue, Bird & Bird's Karen Jacks, explains that usability trumps functionality in unlocking IT's potential to transform.
Feature: In our feature, we ask IT leaders at BLP, DWF, Simmons & Simmons, Irwin Mitchell, Birketts and TLT how IT is changing the way clients reach their legal services.
Insight: Our supplier community comes together full of insights for 2016.

Sign up to receive Briefing every month
>> Missed an issue of Briefing? Download them now
Download the Briefing media pack to find out how you can be involved in Briefing's future.
Any problems?
Having problems downloading Briefing? Email David or Email Yasmin and we'll email you a copy instead.