Briefing June Supplement: Invest for tomorrow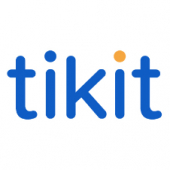 Organisations seem increasingly aware that they need to articulate 'purpose' as well as achieve productivity to build sustainable businesses today. And this is often translated into a relatively straightforward single statement to ensure everyone that touches the business accurately understands all the hard work to be leading to the same thing. Tikit – just embarking on a new chapter in its strategy – has three.
CEO Simon Hill explains: "Our vision is to be the leading provider of innovative and specialist legal technology to the legal profession. We want to make our software transformational in the success of legal and professional services businesses.
Our brand promise is to make it easier for you to get on top of business today, so you can thrive tomorrow." Hill is clearly passionate about changing things for the legal profession – but says that his own ascent to CEO, in fact, emphasises continuity of values. Technology needs to change with the fluidly evolving shape of the workforce, but founding principles have not. Hill has been with Tikit since it merged with TFB back in 2008 (he was an original founder of the latter). And since BT took the business over in 2013 he has been chief operating officer, so this is hardly an unnatural progression.
"In this space you have to be exceptionally clear about what you do, but then also do it exceptionally well," he continues. "Our clear aim is to lead in all our market spaces. I was one of the three directors who effectively decided to sell the business to BT, and we did that to win the investment and support levels of a FTSE 100 company. BT wanted to enter verticals, and was looking at businesses that had already grown rapidly, but which could grow even faster with their support. It wanted to accelerate our development programme.
"Investment in development of legal IT has become something of an arms race. A lot of traditional vendors created their applications back in the late 90s or early noughties. They built on those year on year, but rewriting and introducing a new application in the sector is a big challenge. "I think our users have seen how we've been able to invest far more across our product lines in the last five years than was the case when we were an independent business."