Briefing March 2018: Power to the portal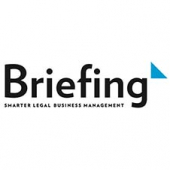 Power to the portal

Lines between law firm and client are blurring – but can they effectively bridge the data divide to a smarter management world?
What's in this month's issue?

The big idea: Top law firms discuss their work building data bridges, including Bird & Bird, Osborne Clarke and Linklaters.

Briefing people: Alison McClure, divisional director, litigation and dispute resolution, Blake Morgan discusses fusing fee-earning and business services responsibility.

Also: Insight and views from business services leaders and top management thinkers at Browne Jacobson, Baker McKenzie, Cass Business School, the Confederation of British Industry – plus Hilary Scarlett, author of Neuroscience for Organisational Change, gives her top tips for risk-managing some perceived threats to people in the 2018 workplace.
The big interview: Stuart Aston, national security officer, Microsoft UK, outlines the potential place of artificial intelligence and cloud-based working in a secure approach to information protection.