Don't delay, join LTC4 today!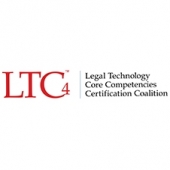 They've joined LTC4.
There are now thousands of LTC4 certified legal professionals who have realised the benefits of being able to prove that they are technologically competent. Cyber security, document, email and time management…all are critical to their performance. Independent, non-profit organisation LTC4 provides an industry standard that can be used to structure training for maximum impact. Assessment of competence is the final stage of the process and certification is the prize!
Time to get certified?
Joanne Humber
Mobile: 07836 553786
johumber@humber.associates