How to compare PDF files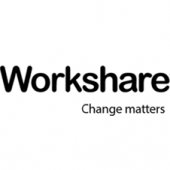 When you have two versions of a PDF file, you need to compare them quickly and be confident you aren't missing any changes. Luckily, you can accurately compare two PDFs in seconds by following a few easy steps. This illustrated tutorial will show you how.
You can also follow these steps to compare a PDF file to a Word document or compare two Word documents.
Just a note – these steps show you how to run the comparison using Workshare Compare, which provides market-leading file comparison. If you don't have it yet, you can install the trial version in less than five minutes.
Compare PDFs in three steps
Step 1: Right-click a PDF and select Compare with Workshare.
Locate one of the PDFs, right-click it and select Compare with Workshare. As a guideline, choose the PDF that was created first. This PDF will be designated as the Original Document.
Step 2: Select the second PDF
Click the folder selection icon to the right of the Modified Document field. Navigate to the location of the second PDF (which can be in your local file system, SharePoint or your DMS/CRM) and click Open.
Step 3: Click OK and the comparison is generated
The comparison is displayed in Workshare.
The Change Summary is displayed to the left. It lists every change and categorizes them so it's easy to locate the changes that matter to you. It also includes a second tab to search for changes. Click any change to see it in context in the document.
The comparison document (a.k.a. redline) is displayed to the right.
Added text is blue with a double underline.
Deleted text is red with a strikethrough.
Moved text is green, displaying a strikethrough to indicate where it was originally located and a double underline to indicate where it was moved to.
If the changes you were expecting to be added are displayed as deleted and vice versa, it's because your Original and Modified documents should be swapped. You can swap them in a single click using the Swap button in the More ribbon.
Psst...why is it called a redline?
Historically, the only way to compare two documents was to have two physical copies next to each other and eyeball them. The comparison was literally marked with a red pen so the document showing the changes became known as the redline. This process took a lot longer than comparing it with Workshare. Thank goodness for progress!
Saving the changes
Convert the redline to a PDF
Now that you have your redline, you have a few options. To convert it to a PDF that you can save or share:
Click "PDF" in the Home ribbon.
Choose your conversion options. To set PDF security options like preventing editing, copying text or cleaning metadata, click "Configure PDF Security".
When you're ready, click "Create".
Open in Word with Track Changes
To open the comparison in Word where you can use Track Changes to accept or reject the changes, click Word > Open in Word with Track Changes.
In Word, select the Review ribbon and you can begin accepting or rejecting the changes.
Email the redline
To email the redline, the original document and/or the modified document:
Click "Email" > "More email options".
Select the checkboxes next to the files you'd like to attach to the email, and select any other options such as a file type for the redline or to only include pages with changes.
When you're ready, click "OK".
FAQs
Can I compare PDF to Word? Word to Word?
This tutorial shows how to compare two PDFs, but you can follow the same steps to compare a PDF file to a Word document or compare two Word documents. There's no need to convert your documents to a different file format before comparing. Any of the following file formats can be compared: DOCX, DOC, PDF, RTF and TXT.
And if you're looking to compare two PowerPoint files, we've got you covered. When you have Workshare installed, you can right-click a PPTX or PPT file and select Compare with Workshare. Workshare automatically detects the file type and opens up the PowerPoint comparison application. Find out more about comparing PowerPoint presentations.
Can I compare image-based PDFs?
Did you know that there are actually two types of PDF? They both end with the .pdf extension so it might not be immediately obvious that they work differently.
Text-based: These PDFs are created electronically (e.g. by creating a new file in Adobe Acrobat or by converting a Word document to a PDF). They contain text that can be selected, copied and edited.
Image-based: These PDFs are created by scanning a document. They contain images of content rather than text content. The images are embedded into the PDF file.
Both types can be compared with Workshare so you don't need to worry about trying to convert them.
What languages can I compare?
Are your files in a language other than English? No problem. Workshare can compare dozens of languages, including Chinese, Spanish, Hindi, Arabic, Portuguese, Bangla, Russian, Japanese, Punjabi, German and more.
If you're comparing an image-based PDF, the following languages can be compared: English, Spanish, Portuguese, Russian, German, French, Italian, Polish, Dutch, Swedish, Finnish, Danish and Norwegian.
What are the rendering set and comparison mode?
You may have noticed that the Workshare Compare dialog has two options we haven't talked about yet.
The rendering set determines what formatting is used to display changes. Remember how added text is blue with a double underline, deleted text is red with a strikethrough and moved text is green with either a strikethrough or a double underline? All of that is completely customizable. Workshare includes several different rendering sets that you can apply, or you can modify them or create your own.

To apply a rendering set, select it from the Rendering Set dropdown. To customize it, click the icon to the right of the Rendering Set dropdown.

The comparison mode determines how the comparison will be run. There are four comparison modes to choose from:

Standard: A regular comparison with all the bells and whistles.
Fast: A Standard comparison is lightning-fast, but if you need to go faster than the speed of light, choose Fast mode. This performs a binary comparison. It's only for comparing DOC/DOCX files against other DOC/DOCX files.
Text Only: A comparison of the text in a document, ignoring any formatting and styles.
Compare without OCR: A comparison of image-based PDF files that does not first perform Optical Character Recognition (OCR). OCR is the process that converts the images in a scanned PDF to editable text.