Industry analysis from Mitie Connect: In good hands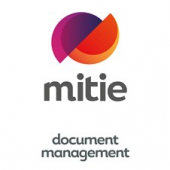 This article was originally featured as an industry analysis piece in the June 2017 LPM Outsource and prosper supplement. To read the issue in full, download the supplement.
Managing physical documents, keeping track of that one version of the truth and getting hold of data when it's needed can be an enormous challenge for any business. In a world where there are more ways of capturing data than ever before, organisations are seemingly drowning in information – and on those occasions businesses come up for air, it can be hard to see the direction in which to swim.
With all the advantages technology can offer, it's no surprise that most are en route to a digital workplace in some shape or another – but this means many different things to different organisations. For some businesses, it's about embracing new technology to connect processes by automating simple tasks, while for others it's a simple matter of being able to scan documents and put hard copies in storage – so they don't have to pay for too much shelf space.
Phrases like 'big data' and 'data lake' can leave firms floundering as they try to navigate their way through compliance with new data rules, such as the EU's upcoming GDPR, as well as information governance, while staying on course with dayto-day operations.
Perhaps the best way to remove the burden of document processing is by passing it on to someone else – a third party that you can trust and that has the expertise to do a better job of it than the firm could by itself.
The potential risk that outsourcing document processing could bring to a firm's information security could make them understandably nervous about handing it over to a third party. But just as a firm may employ specialists to take care of non-core activities such as accounting or cleaning, outsourcing document management should be on your outsourcing to-do list.
Document management specialists can help legal businesses manage the flow of documents and enable them to see the value of data they already own. Firms have case files, key information and a wealth of research information, which could be in electronic or paper formats, with little scope to gain a robust search result.
Bringing together strands of existing document management processes will give firms the ability to drill down into the facts faster and more accurately.
An outsourcing approach can also provide a more holistic model to document management, allowing businesses to gain real insight into their operations through the data already held.
How firms manage, control, manipulate and interpret data is critical to their success, and document outsourcing could hold the key to releasing its full potential. Getting outsourcing right is a matter of aligning it to strategic priorities. Once the two have been aligned, an outsourced model can feed innovation and growth for the firm's core service offering.
Think about the journey a document takes in a firm – it might look a bit like this: create document, distribute document, receive document, save/destroy document, retrieve document for information, create new document and the cycle continues.
Each of those actions has several additional manual touchpoints which firms often take for granted – but all of them form part of an effective document management process. Touchpoints such as mailroom, printing, couriers, processing invoices, scanning, records management and archiving are key to the process.
Linking all of these processes together makes sense – not just to release people from the burden of document processing so they can focus on high-value activities by automating non-core tasks, but to give employees better insight into the business than before. This is known as document process outsourcing (DPO).
For example, if a legal business wants to know how to increase client retention, crosssell services, become thought leaders or understand how to improve profits and cashflow, they need to know more about how they arrived where they are – it's certainly not by luck. And if firms can analyse 'the five Ws' (who, what, when, where and why) and throw in a how, they've got a solid support system for decisions.
And then there is the cost attached to a poor document management process – paying full price for sending mail, to store paper records and get hold of the paper records, for example. Then you add a layer of risk, compliance with GDPR, the potential for a data breach, and the inability to demonstrate an audit trail to show the chain of custody of business-critical information. It's not long before firms will see that they can throw considerable resources into sorting fallout from this, while shelling out hard-earned cash to store paper they don't need.
Outsourcing document management will undoubtedly increase efficiency, save money and simplify the whole process – meaning staff will benefit from saving huge amounts of time and supporting the on-demand nature of business. As a result, firms become more informed, and can give greater insight to clients because they can access data to help understand them, identify trends and manage spend.
DPO enables firms to develop service solutions that best suit the business and its stakeholders – addressing unique business challenges along the way. Taking a collaborative rather than prescriptive approach also means firms can develop a document management relationship over time and have the service model built on trust and success.
Recognising that DPO needs to be applied in different ways based on market sectors and existing business set-ups is key to ensuring a successful outsourcing outcome – which can be a data life raft.