Industry analysis from Tikit: Bringing the changes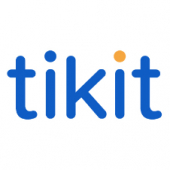 This article was also featured as an industry analysis in the February 2016 issue of Briefing. To read the issue in full, download Briefing.
Moving office is an opportunity for a business to change much more than its address. By working with outside experts – architects and technologists – it may be possible to overhaul both the physical working environment and the efficiency of the people who work in it.
Law firms are taking note of a trend to transform how employees use office space. "It's now often out with the fixed computers, phones and individual desks, and in with a much more fluid – sometimes even virtual – environment," says Tikit CEO Katherine Ainley. "Businesses find they perform better when people are freed to work from more parts of their office in a truly seamless fashion."
Mobile technology, tools for collaboration and unified communications (UC) facilitate this movement away from desks, including mobile applications for tasks such as document collaboration and time recording.
"There's no reason that you can't be online wherever you need to be working at any point in time," says Ainley. "And with videoconferencing, presence and instant messaging, you're also always easier to reach. In a meeting room or break-out area, on a laptop, mobile or tablet device, technology is helping people to work in ways that are both more personally satisfying and more productive for the business."
"Meanwhile, applications such as Tikit's Carpe Diem Next Generation timekeeping, for example, allow fee earners to work much more efficiently across devices."
Interaction with the platforms needs to be harmonised into a consistently intuitive user experience. But it also falls to Tikit, she explains, to ensure that the correct level of infrastructural investment can support the new activity (and mobility). "The local area network often needs an upgrade to enable the right level of Wi-Fi, and data centre options must be aligned with business strategy – onsite, in the cloud or cloud-ready."
Customer satisfaction?
Appropriate software and hardware investment also brings user-friendliness and reliability together to create a better client experience. In today's fiercely competitive market, that serves to differentiate a firm, says Ainley.
"It isn't just firms and fee earners wanting to work differently. Clients are pushing them in that direction. Perhaps they want a video call on the way home, or an instant message in response to something urgent. Technology is the enabler to working both faster and more effectively."
Tikit worked with CMS on transition to their new, more fluid, open-plan office space and flexible IT systems last year (see p14). The scope included the LAN and Wi-Fi and Microsoft Surface Pro tablets, which accompanied the earlier installation of Carpe Diem for more efficient time capture and Worksite document management for improved access to client data.
However, Ainley says that the success of this transformation didn't rest solely on the new technology supplied.
"A strong vision of what you want change to achieve is key. The most successful develop their business and technology strategies hand in hand, including clear measurements and timescales."
That, in turn, helps to change people's behaviour with the new IT available. "If the two aren't aligned, it's much harder to drive adoption – and it's the level of adoption that gets you a good level of return on your investment."
Ainley suggests that firms could make a similarly strategic investment in understanding how other business sectors connect IT and the end customer experience. She herself worked for Lloyds bank before joining BT.
"The way retail banking interacts with its customers has changed completely in 15 years of the internet – and the wider retail sector also has good habits of understanding consumer preferences. The user base is different, but there are similar forces at work – a customer desire to interact with the business from different places, and access to useful information wherever and whenever it's needed."
But if the legal sector lags behind in customer responsiveness, Ainley identifies a parallel trend that could soon make all the difference. Both sides of the relationship – lawyer and client – are increasingly familiar with IT-based problem solving from an ever-earlier age.
"The youngest generation in the workforce is much more inherently comfortable with technology and online collaboration – and more than that, they expect to have it. It's a group that will often have a smartphone in hand from their formative years."
It's a big shift, she says. And law firms have perhaps caught on a little later than others − but the evidence of Tikit is that many are preparing the ground for big changes that now catch them up rapidly, in one go. If that's the case, CMS will be pleased it got in there first.