Industry interview with Indigo Legal Systems: Account on us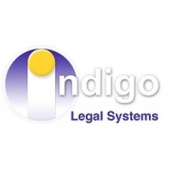 This article was originally featured as an industry interview in the October issue of LPM. To read the issue in full, download LPM.
SME firms need to make sure their front- and back-end systems are the right fit to keep the business running efficiently and drive profitability.
Indigo Legal Systems has been in the legal market for decades, and its expertise is the best-kept secret of the industry, according to head of software and development Dave Webber.
"We've been developing practice management systems since the 1980s, but have always been prevented from developing a document or case management system due to various business liaisons we had. We wanted to cover all areas of legal business.
"Now, Indigo has PMS and document/case management systems available – we're able to embrace both the front and back office of the law firm and are able to offer a full solution. This is a big step for us but an even bigger opportunity for law firms," he says.
THE LANGUAGE OF LAW
Law firms may feel overwhelmed with the breadth of systems and functions available. Taking on a new system is daunting, and firms often underestimate the importance of migrating data over.
Getting data migration correct is an important step in the implementation of a new system. Historically, Indigo used to do that for its competitors, but severed those business ties to focus on helping law firms at no cost and with any supplier.
Webber says that when it comes to data migration, the vendor really needs to understand the market – especially as it concerns accounting, financial and time-recording data.
"When migrating financial and time-recording data, you really need to know what you're doing. We've been doing it for such a long time, we know how other systems hold data and we know the language.
"The world of legal accounting is strange – you get strange terms and phrases like 'not yet paid disbursements' where you can reclaim VAT, anticipated disbursements, and such. Not everyone would know what they mean and then how they manifest themselves in the old system."
BETTER BASIC
Webber says the key challenge for firms taking on a new system is to make sure they get the fundamentals right while ensuring the new system has features, flexibility and functionality to enable the firm to become more efficient, grow and increase profits.
"Don't run before you can walk. You get the PMS and DMS right and then make sure you've got room to expand and enhance your business. We offer a number of add-ons and services for firms that want to look into more adventurous areas of the technology."
And, he adds, with both the Indigo products being in the same slick, easy-to-use interface, there's no duplication of effort. Firms benefit from the efficiency in covering all areas of the business.
Accounting should have easy points of entry, he says, so managers can see more across the firm in terms of financial data.
"Since we now cover front and back office, firms can generate accurate profitability information – we have a host of management reporting tools that can report at different levels – from individual fee earners, departments or the entire firm. Those all feed into one database, enabling managers to really see what's happening in their firm and notice strong and weak areas," says Webber.
Management reporting is a key factor. Firms need to be able to analyse data they receive and managers should be able to tap into a system that's easy to navigate and can give them the information they need – thereby increasing profitability.
Webber says that it makes no difference to Indigo whether a firm wants an on- premise or hosted cloud setup. There are pros and cons with all infrastructure solutions – but at the end of the day it's vital to get the products and support right.
TIME TO KEEP UP
Webber says: "Our support team is second to none when it comes to getting things going. They're former cashiers themselves and have all worked in legal offices before."
He adds that having ex-legal cashiers on the support team means Indigo understands the language that legal accountants and cashiers use and look out for in a PMS.
"The support team are experienced at being cashiers and using the product – with the 'newest' member of the team being with Indigo for 10 years. Indigo's support team are happy to help and can train and assist with confidence.
"Once the firm goes live we have a floorwalking session where our trainer walks around and makes sure everyone is working smoothly and can answer queries as they come up."
He adds that after the firm is comfortable using the system, Indigo takes a step back, though is always on hand to allow the firm to explore areas they'd like to expand. This could be using e-chits to allow for digital processing in billing and posting requests to accounts – for firms working toward a paperless office.
As for where Indigo is headed in the future, Webber says, the product team is developing law-firm friendly apps – being able to time record on the go is a big step for legal.
The firm also needs to make sure that their system can embrace any new regulations – GDPR changes are happening now with everyone needing to comply from May 2018, and litigation departments need to be aware of the forthcoming J-code regulations. Indigo is on top of all this and other suppliers also need to be, he says.
Getting the right practice management and case management system with all the right management information, timerecording capability and digital capacity is important for the smooth running of an SME law firm, Webber says. With indigo covering all areas of legal business, it's easier for firms to increase efficiency and profitability.