Industry interview with Quiss Technology: Don't panic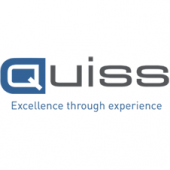 This article was also featured as an industry interview in the Februrary 2016 issue of LPM. To read the issue in full, download LPM.
There's no problem with outsourcing – the issue's the terminology. It's too broad. There's a perception that if any part of your service involves outsourcing, the whole of your service and, by association, the whole of your business, fits under this simplistic and widely misunderstood term.
For those of us that use some aspects of outsourcing in our service offering, communication is the real problem – we think everyone understands what it is we do, and everyone thinks they know what it is we do.
Historically, for law firm IT managers and their teams the term 'outsourcing' has conjured up notions of job losses and helpdesks in different time zones. But with the technology landscape continually changing, managed services specialists like us, should now be viewed very differently, far more as a valued partner to an IT team than a threat.
For more than 25 years Quiss has offered a huge range of services designed to support businesses of all shapes and sizes across every sector, public and private, with IT managers and their teams central to our thinking.
We have developed and added to our service offering to better reflect the changing needs of clients as they cope with the demands of an increasingly competitive, always-on, any device, anywhere, commercial environment.
The common perception of outsourcing was brought into sharp relief recently when I attended an LSN law firm forum in Birmingham.
The event on the whole was the usual success. Those present drank, ate and happily discussed the challenges they face, no doubt looking for a little impromptu advice. But I was surprised by the apparent reluctance of law firm IT managers there to engage me in conversation.
It turns out all the IT managers were worried by the presence of Quiss Technology, because they believed our only interest was in IT outsourcing. Each had come to a conclusion about us and what we offered that wasn't entirely accurate. They believed if they talked to us and introduced us to their firm, it would be like turkeys not only voting for Christmas, but putting up the tree and decorating it.
We have a large number of law firm clients, and in reality most of our work with them involves the in-house IT manager and their team. Our relationship is often with the IT manager and revolves around specialist support – we have high-quality technical abilities within our business that few law firms require on a weekly basis.
We help IT managers in law firms ensure technology in all its forms is an enabler for growth, not a stumbling block. Our helpdesk helps take away the day-to-day pain of missing printer drivers and password changes to allow managers to concentrate on the strategic aspects of their work.
A comprehensive hosted desktop solution is of increasing interest for law firms seeking greater flexibility and mobility, with the confidence of fixed overheads, 24-hour support and robust disaster recovery. It would be a brave law firm that undertook the transition to a hosted desktop without their own IT manager on site to manage the process and agree the specification, integration and implementation.
In fact, the same is true of almost all the work we undertake for law firms, although some might risk ordering new toners and phone handsets without the input of an IT manager. But when firms approach us for advice on everything from converged telephony and videoconferencing to training and client portals, our conversation typically starts with the IT manager.
Our work with SharePoint includes developing intranets for clients and a range of popular applications to manage personnel tasks, training, document storage and collaboration. But IT managers and their teams are central to the process – with a little help from the HR and marketing teams, when the full possibilities are understood.
Sometimes it's just our experience and expertise that's required in a pure consultancy capacity to explain the pros and cons of various options being considered. We're happy to talk cloud computing and explain why we believe an on-premise solution is still okay and why a hybrid solution is the perfect choice for every business. We listen carefully and consider the exact needs of each client, tailoring our solutions accordingly.
The cloud is safer than ever and, while no solution can guarantee 100% protection, an integrated cloud-based approach to security and data protection, turning the threat into the solution, offers big benefits for law firms. And we're confident IT managers in law firms recognise this and will want to talk.
We now recognise that perhaps we have been too busy to explain IT outsourcing as we understand it, which is clearly different to the perception of many IT managers. Law firm IT managers have nothing to fear from Quiss Technology if they know how to work with us, integrate our services into their business and leverage our expertise to their advantage.
Given the current desire for increased productivity and efficiency across the legal sector, managed IT services has much to offer. Whether it's a high street firm considering a hosted desktop solution, a larger firm seeking support for their on-premise infrastructure or a large multisite firm wanting converged telephony and a hybrid cloud solution, we have the experience to advise and the expertise to implement.
Forget misconceptions – let's talk tech.