Industry interview with Thomson Reuters Elite: Reassuringly extensive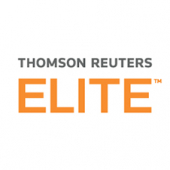 This article was originally featured as an industry interview in Briefing June. To read the issue in full, download Briefing.
Under pressure to produce work for clients in a more predictable fashion, law firms have introduced – at least on the surface – a level of project management discipline to the unwieldy world of legal matters.
Some have appointed project-trained businesspeople from a range of other industries to teach, nurture and monitor this new working environment. Some brave business services leaders have even decided to train up the firm's lawyers to find the time to project-manage their own work. But one thing's for certain – there's a role for the technology specialist in ensuring firm-wide success. Project management in any organisation depends on the timely flow of the right amount of accurate information to the next stage of the process.
Justin Farmer, senior director of product management at Thomson Reuters Elite, agrees the landscape has changed since he was last interviewed for Briefing in 2012: "I see a lot more organisational focus on the process of putting together a plan for how any legal matter will be managed – and also on the transparency of that process. Firms are focused on delivering value to the client, but they know they need to demonstrate that value as well. Where possible, what the client really wants to know is what will be delivered upfront."
Portal power
For example, Thomson Reuters Elite has seen a significant increase in adoption of client portals that promise this level of insight, and therefore predictability. To different extents, these enable a firm's clients to track matter progress at any time – and in their own time, says Farmer.
"But proactive communication like that with a client is increasingly 'table stakes'. Customers are now telling us it's essential," he says. "It's no longer a differentiator to deliver information about specifically what you've achieved effectively, or how far through a project you are. It's just expected.
"It isn't necessarily that their clients were in the dark before – but now they need to know more detail, and more regularly. They need to be more accurately predictive – particularly of costs – in their own internal management, and that demands clearer information about what's being delivered."
Farmer has a tasty analogy for such reporting – ordering a pizza online. "First you can order it up on your mobile app – you can even Tweet your order! Then you can clearly see when it's in the queue, getting prepared, safely in the oven, and out for delivery. There's a progress bar to guide you through the process."
Albeit rather more complex than a handful of extra toppings, Farmer's in the business of facilitating this real-time updating on legal matters. "It's milestone reporting," he says. "You can clearly see what has been done so far, and make decisions based on whatever's left to do."
Ready for actions
The portal infrastructure can also enable clients to approve – and in some cases, even direct – specific actions for completion. "In the corporate world, it isn't unusual for a business to give firms approval for the individuals appointed to work on their engagements," says Farmer. "Or, if a milestone involves a form of documentation, you can link to that as 'evidence' of exactly what was accomplished at that stage.
"Progress is something we all want to know when working on a project with others. But for the law firms that are winning the very high-value work, that's where they really can differentiate. They might bring in extra people – even their best people – for a valued client, and the way they both achieve that and set up the project's parameters can be a key factor in building client relationships. It's their intellectual property."
Thomson Reuters Elite's 3E financial management platform continues to invest in assisting firms to achieve these greater levels of transparency across offices and project teams – and firms are seeing the benefit. In February 2017, Mills & Reeve became the 200th firm to select the platform, building on its investment in the MatterSphere matter and document management component. MatterSphere has also since been enhanced for improved visualisation and task flow in a new release.
Of 3E, says Farmer: "In addition to viewing progress against rates or an alternative fee arrangement – checking agreements are adhered to – specific billing process rules can be implemented, monitored and managed. For example, that could concern accurate time entry, or editing the pre-bill before it's sent to the customer. The firm will want to check and make any necessary adjustments so that the bill goes out in the form agreed."
The 3E value proposition is to deliver that checking and balancing reliably using automation, says Farmer. "And there's a quality and customer relationship impact, but also a benefit at the business's back end. In large organisations, with lots of customers – all with different arrangements – it's critical they efficiently capture potential process problems ahead of time and reduce volumes of rework."
Voice concerns?
But what is Thomson Reuters Elite up to that Farmer is most excited about? That would be its new Workspace product – part of the "Elite Lawyer Experience" tools package – which takes us from the power of collaborative project planning to improving individual productivity. Recognising that too much of a lawyer's time is still lost switching between systems set up for separate business activities, Workspace condenses financial management, time entry, matter management and useful business development knowhow into a single screen view.
The platform can also incorporate third-party products, and is accessible from mobile devices as well as desktops – which, of course, makes for an even more productive day if you're out and about meeting clients.
"We see lawyers becoming much more engaged in the idea of this holistic view of work, and it's exciting because in the past that wasn't really the case," says Farmer. "Increasing talent's engagement with their work is really top of mind for firms today – and therefore it's a key requirement for our technology solutions."
In May 2017 Thomson Reuters Elite also announced the launch of Workspace Assistant, a new way for lawyers to do their time management (via Workspace) using Amazon's Echo or another Alexa-enabled device. Users can control and track time entry by voice – for example, starting and stopping a timer with a simple command and questioning how much time has been entered so far that week.
"We are looking at virtual assistance technology in general," says Farmer. "We started with Amazon because the platform is very extensible, but we're also looking at Siri, Microsoft and Google Home. You're now starting to see these technologies being used by people almost anywhere in app form." At the moment, there's still some concern to be resolved about the device waiting for anything to be said – as opposed to waiting for somebody to start a specific conversation with it, he says.
"Would I want to record time by voice command in my car? Perhaps not today. Perhaps never. But you can see that the mobility aspect is attractive, and you can take technology and extend it into new areas, where you accept things take their course and opportunities may or may not materialise as expected. We've often said in the past that we don't necessarily need to know where all these things are going in advance, but rather ensure we have a platform from which we can extend if necessary."
Farmer says this "extensibility" of its architecture is a core principle in the company's strategy. It also extends to its roadmap for helping firms to achieve even more flexible project and work management, for lower cost, by moving services into the cloud.
"Workspace Assistant is also a really good example of where we took an internal idea out to customers to see what they thought. Frankly, that's also the fun part of the challenge."
But in all seriousness, he says, today's technology needs to consider staying as flexible as possible, not only for what lawyers' clients need in the here and now, but also for whatever the future of work may bring.