NetDocuments provides law firm Fluet Huber + Hoang with scalable document management system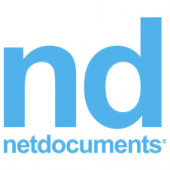 NetDocuments today announced Fluet Huber + Hoang (FH+H), a fast-growing law firm in the Washington, D.C. region, has chosen NetDocuments' cloud-based enterprise solution as its document management system (DMS). NetDocuments provides the firm with more advanced document security, searching, and collaboration features for its high-level global client base.
Having quadrupled in size since its inception four years ago, FH+H sought an enterprise solution that would enable it to scale securely across its three offices. After the firm conducted extensive research on the DMS market that included a weighted, multi-point evaluation, NetDocuments emerged as the choice for its content management capabilities, enterprise search functionality, and security rights provisioning.
"Sharing folders of files online is not a substitute for a full-fledged document collaboration tool, especially as we began growing quickly," said Francis Hoang, partner at Fluet Huber + Hoang. "With NetDocuments, we not only have the full functionality of a document and email management service, but also improved search, security, disaster recovery, and compliance capabilities along with a way to organize important case documents with matter-centric workspaces."
FH+H's entire staff has seen increased productivity and operational efficiency from NetDocuments' solution after only two months of implementation. Two features have proven especially useful to the attorneys and other personnel: Workspaces, which enables teams to collaborate on documents within a client or matter-centric structure and set permissions; and NDSearch, NetDocuments' robust searching tool that uses full text and metadata tagging to provide quick analysis and filtering.
Since 1999, NetDocuments' web-based service has given firms of all sizes the ability to reduce costs and increase security, mobility, collaboration, and accessibility to documents and emails from anywhere in the world and on any device. With fully redundant datacenters in the USA and the U.K., NetDocuments services some of the largest and most prestigious global law firms and financial services organizations. NetDocuments allows anytime, anywhere access, enabling firms to increase productivity and improve the client experience through a comprehensive cloud-based document and email management service.