Quiss explain its reseller IT hardware break-fix solution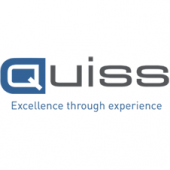 The supply and support of modern IT systems and infrastructure is not only challenging, it's competitive
We understand as a reseller, your customers often lack specialist skills or the resources to look after their own IT estate. They rely on you and you either do what you can or risk losing them to a competitor that offers the level of support they require as their business grows. It's why we developed our reseller IT hardware break-fix solution. It delivers a comprehensive service to your customers, in your name. We can be your support team and maintain or fix your customers hardware whenever or wherever they experience problems beyond the manufacturer's warranty.
Our IT hardware break-fix partner programme can help you keep customers and help you grow your business without you having to invest in new people, expertise or resources.
With our support, you can help your clients extend the life of their equipment, whether you originally supplied it or not, with preventative action or a quick response when the lights go off.
Fixed annual fees to cover any or all of your customer's equipment, backed by service level agreements, offer you the chance not just to retain business but win more.
For added peace of mind we will sign non-disclosure agreements and white label our service if you prefer. We will work closely with you to protect your brand and strengthen the relationship you have with your clients.
Why Quiss is the right partner of choice
When your customer has a problem, they want action not messages logged or a call back the next day.
At your service is our UK-based, 35-strong support team of helpdesk engineers, network engineers, systems specialists and logistics experts, all ready to swing into action when your client calls; we can even supply you with a unique phone number to reach support, answered in your name.
And remember, calls come straight through to engineers in our support team, not call handlers.
We have a huge warehouse full of every conceivable spare part, so you don't have to hold stock yourself. Our field engineers deliver the national coverage that allows you to extend your reach, without additional cost.
For added peace of mind, we are a financially secure, independent privately-owned business, founded in 1988 that started life fixing computers and systems supplied by others.
Our IT hardware break-fix service in short
• 24/7/365 UK-based helpdesk
• National coverage by
experienced support engineers
• Cover for all major hardware
types
• ISO 27001: 2013 and ISO 9001:
2008 certified
• 6000m3 parts warehouse
• Service level agreements
• Confidentiality and NDA backed
relationships
• Unrivalled diagnostic and firstfix
rates
• Competitive prices with room for
your margin
A great business opportunity
Building a comprehensive support service takes significant investment and time spent training; we should know. Our IT hardware break-fix programme gives you the chance to enhance the service you offer your clients, helping minimise equipment downtime and disruption if things go wrong.
You benefit from predictable annual fixed costs, unrivalled quality of service and experienced support teams ready to help you retain existing business and fight for more with renewed confidence.
Importantly, our service ensures broken equipment is put back as close to its original status as possible, dependent on back-ups and data integrity, licencing etc. New replacement equipment, will still require additional downtime and the costs associated with reloading operating system, re-building desktops, apps, data, etc.
You can trust Quiss to do it all for you and for your clients.