Quiss: Things that go bang in the night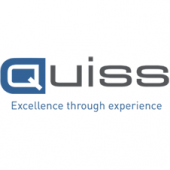 Your business relies on its IT system and the equipment your IT system relies upon, is almost exclusively electrical and complicated, which means sometimes, some of it will stop working.
Beyond the warranty that came with your equipment when it was new, you still want the maximum availability and performance from your hardware, systems and infrastructure.
When they try and sell extended warranty with a £30 toaster, it can be annoying, but when it's the servers your whole business runs on or the printer your sales team need every day, then extending the life of this equipment makes sense.
And that's where traditional maintenance services can help extend equipment life, with preventative action to limit breakdowns or a guaranteed quick response when something goes bang.
Typically, for a fixed annual fee, any item can be covered, from laptops and printers to servers and modems, whatever is vital to the day-to-day operations of an organisation. And the cover is backed by service level agreements (SLAs) that offer real peace of mind for business-critical equipment.
As you might expect, some firms will go further. If for any reason a repair cannot be completed within the time set by the SLA, the good ones like us will supply and install a temporary replacement.Relationships with all major manufacturers are required to ensure equipment needed is readily available. But unless you're good with a screwdriver, you'll need a service provider with a team of mobile engineers ready to fit everything - the final guarantee of real peace of mind over fix times.
Old but still useful
Thanks to hardware maintenance contracts, you can continue to use equipment in your business without a valid manufacturer's warranty, safe in the knowledge you have options if it breaks.
However, it's important that when you add new equipment to your inventory, you advise the provider of your post-warranty services, so when the warranty runs out they know and can add break-fix cover for the item in question.
The best providers will include all hardware required to fix any issues with the equipment covered by the maintenance agreement, as well as unlimited engineering support onsite during predefined hours.
When you weigh the cost of equipment downtime and disruption to your business against the comprehensive hardware maintenance services available, with predictable annual fixed costs, then it makes no sense to wait for things to break, just to see how much you will miss them.
Or worse, assume it will break and replace it, when there is plenty of life left in the equipment.
New is good, but not better
Importantly, a typical break-fix service ensures your broken equipment is put back as close to its original status as possible, dependent on your back-ups and their viability. If you buy a new replacement, you will also have the additional downtime and costs associated with reloading your operating system, apps, data, etc. Get a quote for cover and rest easy.