Sprout IT: The benefits of having your own virtual IT director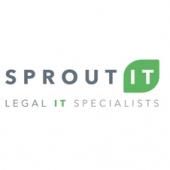 You know that IT is vital to your operations. But would you struggle to find, afford, or make space for another full-time member of staff? That's when setting up you own in-house IT may not be an option for you.
By taking on a Virtual IT Director, you'll get all the technical expertise you need as well as decades worth of knowledge and experience – at just a fraction of the cost of a permanent or interim IT professional.
So how would a Virtual IT Director benefit your business?
Strategic excellence
Ongoing changes to the way that companies manage their data mean that many businesses would benefit from a Virtual IT Director in their company keeping their systems in line with the GDPR rules. Since non-compliance could cost you up to 4% of your annual turnover, the return on investment of having a dedicated professional taking responsibility for the issue is obvious.
With experience in providing effective solutions to suit legal firms' IT budgets, a Virtual IT Director will modify your systems to work in alignment with your business needs and strategy.
Increasing productivity through faster programs, improving data security protocols, and giving your staff greater mobility with remote working technology, your Virtual IT Director will work with you to find the solutions that will benefit your business the most.
They also bring experience and knowledge to processes including auditing, network development and compliance.
https://www.sproutit.co.uk/wp-content/uploads/2017/12/shutterstock_39455... 768w, https://www.sproutit.co.uk/wp-content/uploads/2017/12/shutterstock_39455... 1024w, https://www.sproutit.co.uk/wp-content/uploads/2017/12/shutterstock_39455... 624w" />
https://www.sproutit.co.uk/wp-content/uploads/2017/12/shutterstock_27482... 768w, https://www.sproutit.co.uk/wp-content/uploads/2017/12/shutterstock_27482... 1024w, https://www.sproutit.co.uk/wp-content/uploads/2017/12/shutterstock_27482... 624w" />
Part of the team…
Your Sprout Virtual IT Director may be an outsourced professional but they'll act as a mentor, a leader, and an enabler within your practice or chambers. They'll take all of your firm's objectives on board, working with your and our various teams to provide efficient, in-time delivery of projects.
They will also attend your management and board meetings when necessary.
… but independent
Because a Sprout Virtual IT Director is not tied to any particular hardware or software manufacturer, they give you completely unbiased opinions and guidance.
Your Virtual IT Director will provide your firm with an accurate, detailed assessment of your current IT set-up and be there to contribute fully to your future IT development plans.
Security
One of the most important differences you will benefit from when you bring a Virtual IT Director into your practice is that your data security systems will improve considerably.
Our fully-qualified and experienced professionals provide "best-of-class", legal-sector-focused solutions to match your practice's specific needs and requirements with a firm focus on providing a first-class end-user experience.
Sprout IT's clients continue to benefit materially from having an on-site professional to ensure their data is secure at all times.
Protecting your critical information from breach or loss is second nature to Sprout IT. Having an experienced professional oversee your data processing and storage not only helps to reassure your staff and customers, it will also be a major part in ensuring that your practice is compliant with both existing and new regulations.
Flexible and scalable
Unlike an interim manager, a Virtual IT Director is a completely flexible resource. They can be onsite once a week, once a month, or just whenever you need them.
Interims can be a good temporary solution for project work or a fix up of your systems. But they leave after the work is done. A virtual IT director's services are entirely scalable to your practice's requirements, and they're there whenever you may need them.
They're ideal for practices and chambers of any size; completing specific projects, aligning your business strategy with effective IT, and modifying your current systems to improve your employees' levels of productivity.
They will be involved right up until the point your project or programme is complete then they manage the day-to-day systems from a distance when it's convenient. That allows you to focus on your practice knowing all aspects of your IT systems are being taken care of at all times.
Even more benefits with Sprout IT's Virtual IT Director service
If you want to find out how else your company could benefit from having it's very own Virtual IT Director, speak to the Sprout IT team today on 020 7036 8530.