Sprout IT discusses the use of artificial intelligence in the legal industry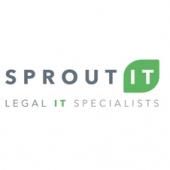 AI (Artificial Intelligence) for the legal industry
For some, the idea of artificial intelligence may still sound like a far-fetched work of science fiction. But even today, this cutting-edge technology is being used by businesses across the world; allowing them to achieve even more than is possible by human endeavour alone.
AI has taken the legal sector by storm; offering law firms faster, more accurate analysis, with the ability to pool and study information from thousands of sources in an instant.
Artificial Intelligence
AI refers to computer systems and specialist software that are capable of going beyond their original programming and continuously learning. They're able to understand the meaning of all kinds of data, including written text, and then process the information for whatever the user needs.
Sometimes referred to as cognitive computing, the technology is designed to recognise patterns in data, find relationships between words and numerical data, as well as identify any mistakes and inconsistencies through proofreading.
The programmes can accurately complete exhausting and data-intensive tasks traditionally performed by humans and in just a fraction of the time.
This allows solicitors and barristers to build cases without the time-consuming necessity of searching through seemingly endless documents for the information they need.
AI in the legal sector
Law firms and chambers worldwide have been incorporating aspects of AI into their systems for the past few years. The software has been used to review documents for discoverable and relevant information.
Whether it's a company's list of employee policies or a business contract, if the data you're looking for exists, the AI will find it. This type of artificial intelligence is also used in legal research, allowing the user to sieve through a complete library of case law and statutes.
Searching for concepts, not just keywords, means this new technology can "truly understand data, infer meaning, classify the various types of ideas present, and help you get to the result fast—even if that result didn't involve the keywords you used," says Jay Leib, co-founder and CEO of NexLP.
Leib and a team of data scientists, programmers, and eDiscovery experts formed the company in 2013. Using the highest performing AI of its kind, NexLP gives lawyers a "tactical advantage" in large-scale data analysis.
One of the most impressive aspects of AI technology in the legal industry is its storytelling capabilities. Leib said that NexLP's "text analytics and machine learning… [helps] the data tell its story, thus allowing legal teams and the C-suite to focus their time on nuanced analysis and application of that story to the issue at hand."
London-headquartered international law firm, Clifford Chance, is one of the first large organisations to fully get on board with artificial intelligence. In 2016, they announced their partnership with AI software provider, Kira Systems.NexLP state their Story Engine technology is able to "understand the people and concepts discussed in document", with multiple classifiers and analyses allowing it to "better represent human intellect".
With the ability to "unlock relevant information from contracts", Kira's technology is designed to improve their clients' levels of speed, quality and accuracy in data analysis. Up to 90% faster at completing contract reviews, this AI can also extract text from both online and scanned documents to automatically generate summary charts for the user.
Artificial technology is revolutionising the way law firms conduct their business. Bringing new and more efficient methods of analysing and interpreting data, AI is bringing the legal sector to the cutting-edge of modern technology.