Training users helps strengthen the weakest link – recognising cyber-security risks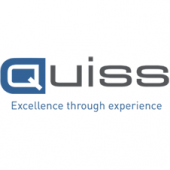 ARTICLE BY NICK HAYNE, PROFESSIONAL SERVICES MANAGER, QUISS TECHNOLOGY
To improve productivity and defend against cyber-attacks, Manchester law firm Turner Parkinson engaged Quiss Technology to train users on how to get more from their key software application and to understand and recognise the cyber-security risks that most law firms face on a daily basis."
Established in 1995, Turner Parkinson is a specialist business law firm with a reputation for delivering market leading legal services to businesses and business owners. Renowned for its effective response and action, the firm specialises in corporate transactions, commercial dispute resolution, insolvency and restructuring as well as commercial real estate matters.
Professional Services Manager for Quiss Technology, Nick Hayne explains: "Like a lot of law firms, the conversation with Turner Parkinson started around our managed IT services offering, but soon turned to a discussion on efficiency and productivity.
"The firm relies on Microsoft Office as their key productivity tool and had recently upgraded to the latest 2016 version, which although similar to previous versions, includes a lot of changes and improvements. It always takes time for people to get back up to speed following an upgrade, but some of the improvements and shortcuts can be missed unless they are pointed out from the start.
"We tailored our training programme to deliver short sessions to small groups of users, which not only aids learning, but minimises disruption to the business. The initial training in the classroom, delivered over two days, was backed up with a third day of floor-walking, when the trainers roam the office helping individuals solve problems that arise in their daily activities.
"A similar approach was used throughout the cyber-security training that we delivered to everyone within the business. Ensuring staff are aware of the risks and methods of cyber-attacks is essential and not limited to just fee earners or those dealing with finance.
"Cyber-criminals are all too aware that given the effort devoted to system security, it is the people using the system that are the weakest link, not the system itself. Raising awareness of the different approaches used to attack organisations and the things to look out for, is crucial to an effective defence.
"We are living and working in a world where criminals know they only have to be lucky once to hit a potential jackpot, with little risk of capture or penalty. And the always-on, hyper-connected digital world is making life easier for them to attack increasing numbers of businesses, large and small."
Turner Parkinson Managing Partner, Mark Openshaw-Blower commented: "The confidentiality of our clients' information is critical to the quality of service we provide. Firms like ours, not only risk monetary loss through co-ordinated cyber-attacks, but devastating reputational damage if client information were to be stolen.
"The training from Quiss was focused and delivered in such a way that engaged our people, whilst making us all aware that cyber-security is the responsibility of everyone within the business.
"The training with Office 2016 was invaluable. We immediately saw an improvement in productivity and a lessening in "noise" in the office, with fewer questions asked of colleagues allowing a more streamlined response to our clients'. These applications are tools that allow us to do our work and being shown how to use a tool effectively and efficiently makes perfect sense and something we'll certainly maintain in the future as we grow."