Leadership insights: Burn your rule books, with NetDocuments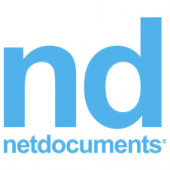 Briefing editor-in-chief Richard Brent was joined by Gareth Ash, CIO of Hogan Lovells, for a Q&A covering the rapid response of legal business to a pandemic, the shape of things that may now emerge, and what the implications are for firms' many strategic technology choices. In truth, there has been no playbook to follow as this situation has unfolded, but key areas of focus have included ensuring much hard work put in to finetuning collaborative working approaches over the years can continue; how best to support a remote workforce in terms of productivity and wellbeing; the pressures on information security; and whether there is still room on the agenda to innovate for clients.
The pandemic arrived as Hogan Lovells was in the process of rolling out NetDocuments as its document management system of choice, and Gareth also gives a detailed update on the status of this project and its strategic significance within a forward-looking, flexible and unified IT ecosystem.
Webinar time: 1 hour. Take a look at the YouTube page for specific timestamps, so you can find content more easily.