Accesspoint Legal Services talk Sales & Purchase screens and workflows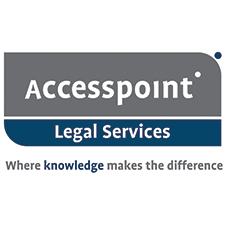 At Accesspoint, we understand the challenges legal firms face with sticking to deadlines, providing a high quality service to clients and still meeting the expectations of the ever changing legal environment. That's why we don't want you to sweat over the small things and waste hours of your precious time completing tedious tasks and populating templates and forms.
We believe firms should be able to focus on their clients and their desired outcomes, not the technology.
Our latest addition to the growing portfolio are the Sales & Purchase screens and workflows that have been seamlessly integrated with Perfect Portal. When matters are created in P4W the information from Perfect Portal is stored within the screens, this is then available to auto populate templates and either Oyez or Laser Forms. The sale and purchase screens have also been designed to work when using Infotrack so that the information is available to auto populate their forms as well.
Main Features
– Integrated with Perfect Portal so all quote information is stored within the screens
– Quickly populates your forms and templates
– Populates Outlook calendars with key dates
– Integrated with Infotrack so all information is fed into their forms
– Reduces wasted time spent on admin work
Our Sales & Purchase screens and Workflows have already made a huge difference to a number of firms. We can't wait to see what our product can achieve for your firm!
Interested?
For more information please visit our website at accesspoint.legal
To find out what other products best suits your needs contact hong.tran@the accesspoint.co.uk