Briefing - the only magazine for law firm leaders
Briefing is the magazine for law firm management leaders, covering the business issues of the legal market. It's for everyone in legal services management, no matter their role. Published 10 times a year in print and digital formats, Briefing reaches thousands of decision makers in legal business management.
Looking for previous issues of Briefing? Scroll down - you'll find a full list, all downloadable for free.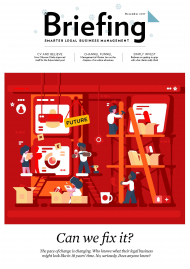 ---
Download back issues of Briefing
You can download every back issue of Briefing. It's absolutely free.
Briefing: In-house special | Interview with Jessica Burston, director of operations, Royds Withy King (July/August 2018)
Briefing: Near pressure | Interview, team profile, business development, CMS (June 2018)
Briefing supplement: Processing powers (May 2018)
Briefing: Feel the path | Interview, team profile, client relationship management, Shoosmiths (May 2018)
Briefing: Future frontiers | Event report, Briefing Operational Leaders in Legal 2018 (April 2018)
Briefing: Power to the portal | Interview with Alison McClure, divisional director, litigation and dispute resolution, Blake Morgan (March 2018)
Briefing: Ideas people | Interview, team profile, legal services delivery, Hogan Lovells (February 2018)
Briefing: Hit the roadmap | Interview, management team profile, Minster Law (December 2017)
Briefing: Push for 2020 | Interview with Rod Harrington, chief operating officer – Europe, Middle East and Asia, Norton Rose Fulbright (November 2017)
Briefing: Socially capitalise | Interview with Derek Cummings, HR and operations director, Burness Paull (October 2017)
Briefing: Sectoral feeling | Interview, team profile, disputes pricing and business development, Herbert Smith Freehills (September 2017)
Briefing supplement: Intelligent businesses (September 2017)
Briefing: Seize the play | Interview with Carol Sawdye, chief operating officer, PwC network (July 2017)
Briefing supplement: Cloud uncovered (June 2017)
Briefing: Machine yearning | Interview with Jonathan Agar, CEO, Birketts (June 2017)
Briefing report: Innovation in Global Legal Business (June 2017)
Briefing: Shared visions | Event report, Operational Leaders in Legal 2017 (May 2017)
Briefing: Team players | Interview with Cornelius Grossmann, global head of law, EY (April 2017)
Briefing: Aiming for inequality? | Interview with Elliott Portnoy, global CEO, Dentons (March 2017)
Briefing: Let's get flexible | Interview, team profile, knowledge management and innovation team, Taylor Wessing (February 2017)
Briefing: Intelligent designs | Interview with Professor of information technology and management Tom Davenport (December 2016)
Briefing report: Legal IT Landscapes 2017 (December 2016)
Briefing: Sweeten your offer – employer branding strategy | Event report, Briefing 5P (November 2016)
Briefing: Ready for takeoff | Interview, team profile, Ashurst Advance (October 2016)
Briefing: Purchasing powers | Interview with Marty Harlow, procurement director, GlaxoSmithKline (September 2016)
Briefing supplement: Finance leaders (September 2016)
Briefing: Learning leadership | Interview, team profile, finance team, Shoosmiths (July 2016)
Briefing: Flexible futures | Interview with Richard Punt and Tony Corcoran, Peerpoint (June 2016)
Briefing: Game changers | Interview with Neil Smith, finance director, Gateley (May 2016)
Briefing: Reporting for duty | Interview with Libby Jackson, global head of alternative legal services, Herbert Smith Freehills (April 2016)
Briefing: Leaders in continuous improvement | Interview, IT team, Taylor Wessing (March 2016)
Briefing: Office space explorers | Interview with Barabra Mendler and Razvan Cretu, CMS (February 2016)
Briefing: Innovation and technology | Interview with Karen Jacks, IT director, Bird & Bird (December 2015)
Briefing: The people issue 2015 | Interview with Carol Ashton, HR director, DLA Piper (November 2015)
Briefing: Reviewing resourcing in 2015 | Chris Oglethorpe, HR director, Wragge Lawrence Graham & Co (October 2015)
Briefing: Pricing, projects, productisation | Jason Haines, finance and operations director, Allen & Overy (September 2015)
Briefing: Middle East and Africa in 2015 | Boris Martor, head of Africa group, Eversheds (July 2015)
Briefing: Strategic change in 2015 | Richard Scase, Emeritus Professor of Organisational Change, University of Kent (June 2015)
Briefing: Is legal a content business? | Nick Thody, head of client knowledge, Osborne Clarke (May 2015)
Briefing supplement: Turning paper into process (May 2015)
Briefing: Asia-Pacific opportunities in 2015 | Cath Evans, UK CEO, Slater and Gordon (April 2015)
Briefing: Profitable growth in 2015 | Mark Whitley, COO, Norton Rose Fulbright LLP (March 2015)
Briefing: Business resilience in 2015 | Scott Nicholl, head of risk, Hogan Lovells (February 2015)
Briefing: Legal IT in 2015 | Haig Tyler, chief information officer, Herbert Smith Freehills (December 2014)
Briefing: the People issue 2014 | Interviews with leaders across all roles in leading top 100 firms (November 2014)
Briefing: Process and projects | Nick West, UK managing director, Axiom (October 2014)
Briefing: Pricing and profitability | Chris Emerson, director, practice economics group at Bryan Cave (September 2014)
Briefing: Knowledge and process in 2014 | Stuart Hopper, director of Baker & McKenzie's M&A department (July 2014)
Briefing: Strategy | Interview with Dan Fitz, BT's global GC (June 2014)
Briefing: People, change and transformation | Interview with Andrew McEachern, global people and development director, Norton Rose (May 2014)
Briefing: Marketing tomorrow's firm | Interview with Ash Coleman-Smith, marketing director, BLP (April 2014)
Briefing: Managing risk in 2014 | Interview with Chris Vigrass, director of risk management, Ashurst (March 2014)
Briefing: Finance management in 2014 | Interview with Peter Hickman, CFO/COO, Linklaters (February 2014)
Briefing: Legal technology in 2014 | Interview with Paul Caris, CIO, of Eversheds (December 2013)
Briefing: The people issue | Interview with Andrew Darwin, COO, DLA Piper (November 2013)
Briefing: Process and profitability in 2013 | Interview with Richard Jones, director of the leadership team, Wragge & Co (October 2013)
Briefing: Pricing and profitability in 2013 | Interview with Kevin Doolan, head of client relations, Eversheds (September 2013)
Briefing: Knowledge management in 2013 | Interview with Lucy Dillon, director of knowledge management, Berwin Leighton Paisner (July 2013)
Briefing: Strategies for growth 2013 | Interview with Amanda Burton, COO, Clifford Chance (June 2013)
Briefing: People strategies for global growth 2013 | Interview with Kay Willis, HR director, Hogan Lovells (May 2013)
Briefing: Marketing tomorrow's law firms | Interview with Elizabeth Chambers, Freshfields (April 2013)
Briefing: Finance management in 2013 | Interview with Robert Boardman, FD, Herbert Smith Freehills (March 2013)
Briefing: Risk management for law firms | Interview with Michelle Garlick, Weightmans' risk and compliance practice head (February 2013)
Briefing: Legal IT in 2013 | Interview with Gareth Ash, chief information officer at Allen & Overy (December 2012)
Briefing: The people issue | Interviews with leaders across all roles in leading top 100 firms (November 2012)
Briefing: Business process management for law firms | Interview with Thereza Snyman at Kingsley Napley (October 2012)
Briefing: Agility and business management | Interview with Christina Blacklaws at Co-operative Legal Services (September 2012)
Briefing: Creating value with knowledge | Interview with Sam Dimond at Norton Rose (July 2012)
Briefing: Strategy in 2012 | Interview with John Pickering at Irwin Mitchell (June 2012)
Briefing: Business development for 2012 | Interview with Lance Sapsford at Addleshaw Goddard (May 2012)
Briefing: Human capital management | Interview with Kevin Hogarth at Freshfields Bruckhaus Deringer (April 2012)
Briefing: Strategic information and business intelligence | Interview with David McLaughlin at Simmons & Simmons (March 2012)
Briefing: Risk and compliance in 2012 | Interview with Heather McCallum of A&O (February 2012)
Briefing: Legal technology | Interview with Jan Durant of Lewis Silkin (December 2011)
Briefing: E-discovery | Interview with Jonathan Maas, Ernst & Young (November 2011)
Briefing: Competitiveness and the Legal Services Act | Interview with Paul Harding, ABS Consultants (October 2011)
Briefing: Outsourcing | Interview with Sue Shale, CFO, Farrer & Co (September 2011)
Briefing: Knowledge management - Information superheroes | Interview with Tom Baldwin, CKO, Reed Smith (July 2011)
Briefing: Strategy and management | Interview with Rupert Egerton-Smith, head of strategy and business transformation, Linklaters (June 2011)
Briefing supplement: Infrastructure, IT and facilities, strategy and the future (June 2011)
Briefing: HR -an L&D special - Training Generation Y | Interview with Jonathan Bond, Pinsent Masons (May 2011)
Briefing: Alternative fee arrangements | Interview with Neil Kinsella, CEO of RJW (April 2011)
Briefing: Risk and Compliance | Interview with Tom Arrowsmith at Olswang (March 2011)
Briefing: Marketing and BD | Interview with Laurie Robertson global head of marketing and BD, Baker & McKenzie (February 2011)
Briefing: Document management | Interview: Damien Behan, IT director, Brodies (December 2010)
Briefing: Cloud and outsourced IT for law firms | Interview with David Bason, IT director, Shoosmiths (November 2010)
Briefing: Finance management | Interview with Sarah Wilkinson, finance director, FFW (October 2010)
Briefing: Legal Services Reform | Interview with Professor Stephen Mayson (September 2010)
Briefing: Staffing and resourcing | Interview with Jill King, global head of HR, Linklaters (August 2010)
Briefing: Finance and Business intelligence | Interview with Alan Hodgart, Huron Consulting (July 2010)
Briefing: Legal efficiency | Interview with Professor Richard Susskind (June 2010)